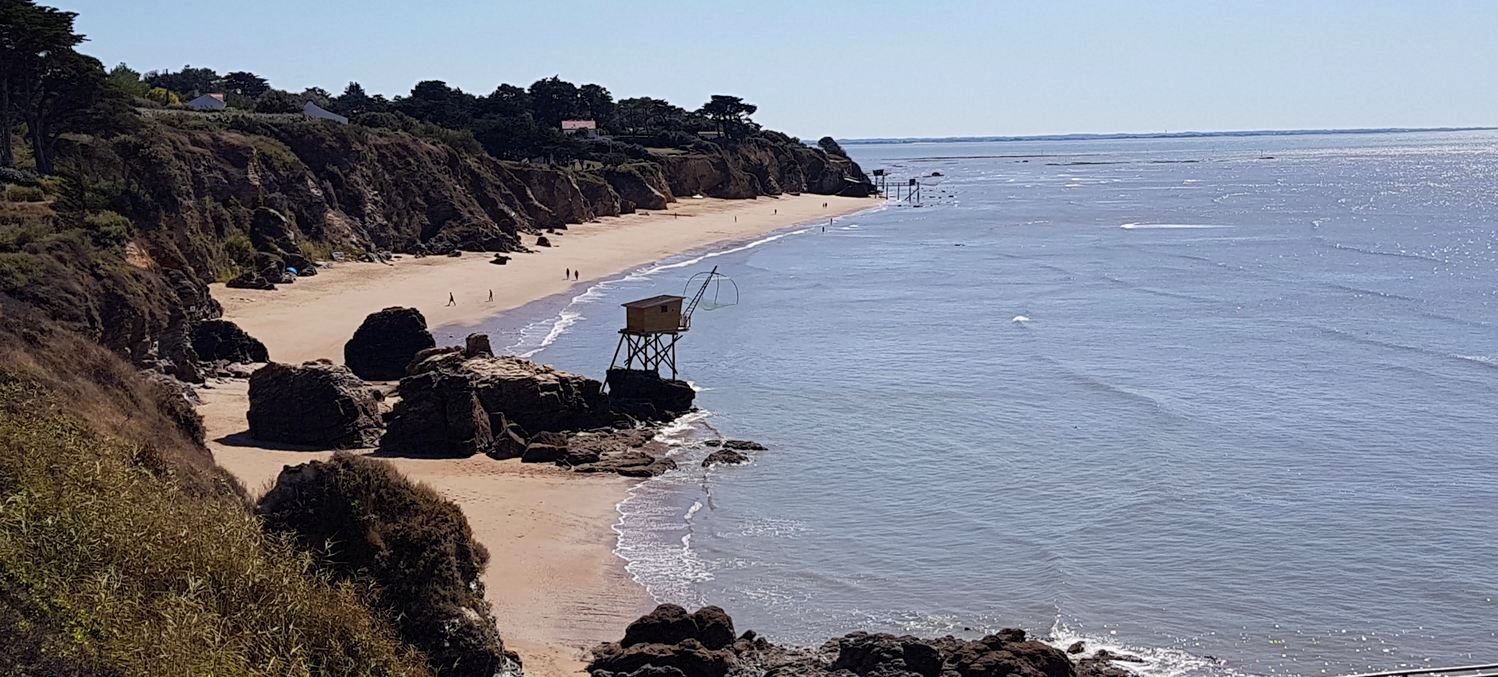 A large sandy beach 200 meters from the campsite!
The beaches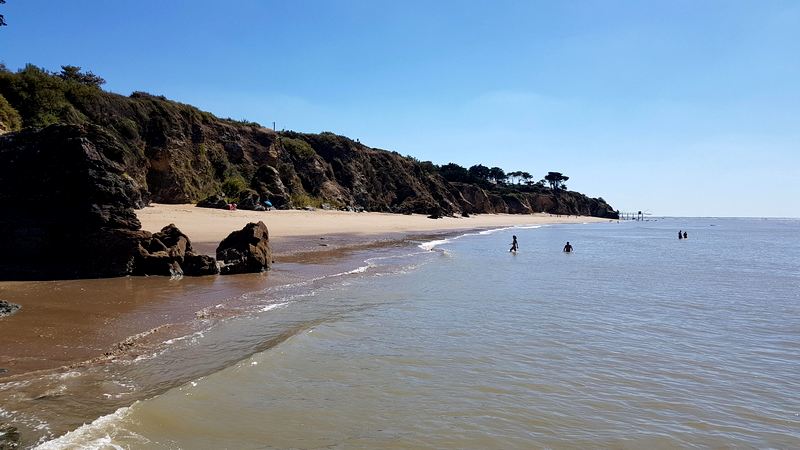 La Boutinardière beach 200 metres from the campsite
Many beaches surround the campsite of La Boutinardière. The nearest beach, 200 metres away, is La Boutinardière beach, a privileged location between Pornic and Bernerie.
It will allow you to enjoy the pleasure of swimming, making sand castle but also fishing on foot at low tide. This beach is a large sand cove of 500 meters where stand large rocks in the middle of countless fisheries.
The walk on the trail "sentier des douaniers" along this beach offers an incomparable panorama, the colourful orange-yellow cliffs contrast with the sky and the sea.
The ideal beach for shore fishing (clams, shrimp) , discover the foreshore, this area discovered at low tide, with family or with passionate fishermen. Don't forget shoes or boots!
High tides 2023: April 19-21, August 3-5 and 31st of august to 3rd of september.
The beach of La Bernerie en Retz, 2km from the campsite
A large sandy beach of 800 meters long. An ideal beach for swimming and shore fishing. The large sandy beach descends gently and there are no currents. The beach is large enough for everyone to find a quiet spot, mölkky players as well as volleyball players.
This beach is easily accessible through several alleyways of the city center, it is passable as well in stroller as in wheelchair, but also allowed to scooters and bicycles, it is easy to walk there thanks to the deck at the top of the beach. All these wooden amenities, pergolas and sunbaths, offer an additional attraction to swimming and nautical pleasures.
At the end of the large beach is a 2.5 hectare sea water body to swim at any time of the day regardless of the tide. The sailing school is present there proposing several activities: optimist initiation, windsurfing, sailing board...
Beach supervised in high season.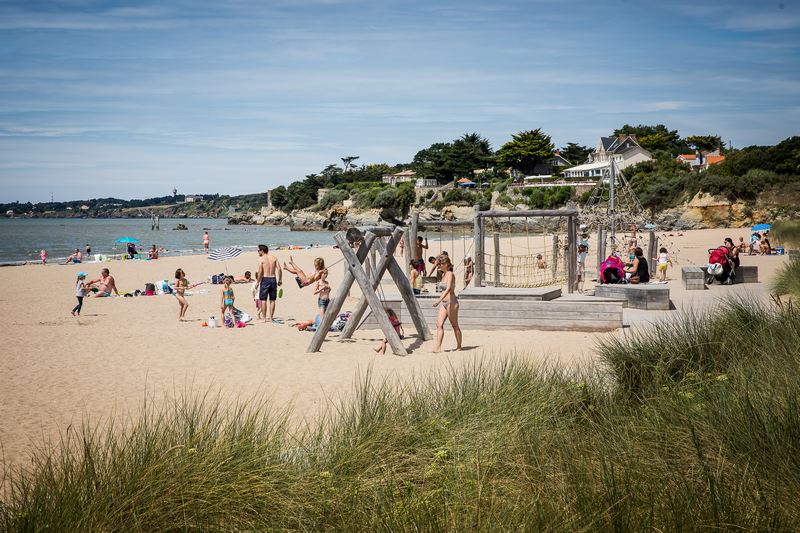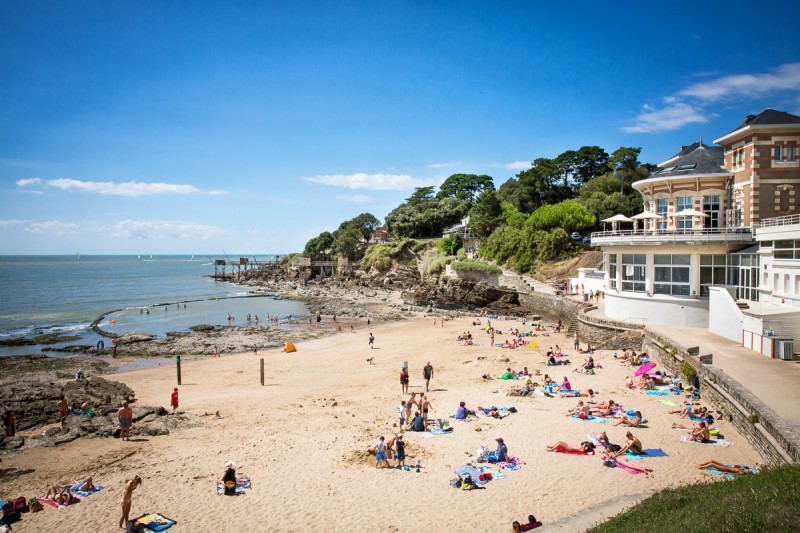 Few beaches of Pornic
Beach of "la Fontaine aux Bretons" 2,5km from the campsite:
"La Fontaine aux Bretons beach" is a rocky sandy cove with calm waters. With its fisheries, its rocks and its golden sand, you will be in a natural environment!
"La Source" beach at 4,4km from the campsite :
Small sandy cove where the first casino of Pornic was located. Today, two restaurants and the thalassotherapy of Pornic overlook it. You can also walk along the footpath. The beach is equipped with showers, cabins and a diving board. This beach is not supervised.
"La Noëveillard" beach at 8,4 km from the campsite :
It is one of the largest beaches in Pornic, with a beach club and baths and showers. You will also find a bar and a restaurant. The beach is located next to the marina and its paid parking (in July and August). A wooden platform is provided for disabled access.This beach is supervised in summer.
"Les Sablons" beach at 9,8km of the campsite :
The beach of "Les Sablons" is located on Sainte-Marie in Pornic. It is a cove with orange sand with rocks at each end, leaving a beautiful bathing area. This cove is quite frequented and has a small beach bar in summer. Unsupervised beach.
A little further down... the coast of Jade
"Cormier" beach at 14.3km of the campsite :
The Cormier beach at the Plaine sur mer is made of fine sand that pleases families because swimming is easy.
A sailing and sliding club has found its place here and offers courses adapted to all ages. Kite enthusiasts, towed mountainboarders… This is the perfect place for you!
Tharon beach at 15.8km from the campsite :
The large beach of Tharon is located in the seaside area of Saint-Michel-Chef-Chef (Tharon-Plage). It is the largest beach (1 km long) and the most complete. The northern part is reserved for nautical activities (sailing, sailing tank, etc.), the central part for families with summer monitoring and the south side for fisheries. Backed by a vast dune area, this urban beach offers a preserved environment, while being close to amenities.
It is possible to swim even at low tide because the sea does not retreat very far.
It is accessible to persons with disabilities end supervised insummer.
"Gohaud beach" at 16km from the campsite :
To the north of St-Michel chef, the beach of Gohaud located between small coves, offers a pretty wild setting thanks to the cliffs and dunes located nearby. Gohaud is above all a spot for lovers of sliding: surfing, bodyboarding… as well as paragliding enthusiasts.